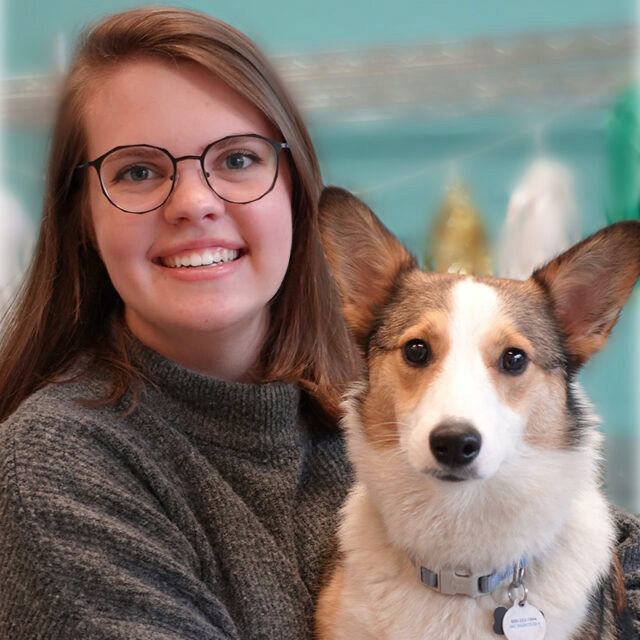 Project Manager • Graphic Designer
I've always had a huge passion for animals and dreamed of working in the pet industry when I was a child. Here at Aeslin, I initially started as a dog handler, but from the start, I always wanted to use my artistic skillset to help develop the companies brand and future projects. In the future, I want to use my art to inspire and improve the lives of both pets and their owners. 
Outside of work, I am a college student working towards my degree in fine arts. I've always enjoyed drawing, but recently, I've become very passionate about technological based work. I enjoy exploring creative coding, game design, robotics, sound, and virtual reality through my studies. I also have a huge passion for growing plants!
If I could be any breed of dog, I would choose to be a Bernese Mountain Dog. While I have my spurts of energy, I can also be very relax and collected. Also, their goofy and outgoing personalities fit perfectly with my own. Most importantly, Bernese Mountain Dogs always make me laugh, which I try to do with those around me.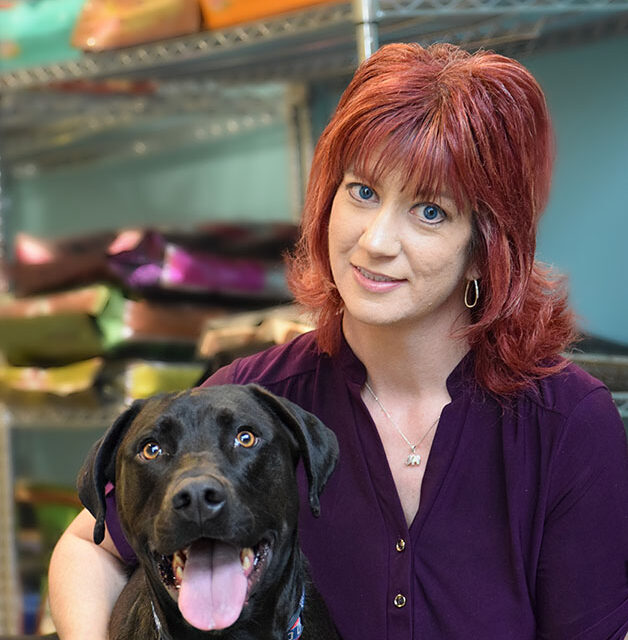 Noble Square AM Operations Lead
My entire life I have always owned multiple dogs at one time. Most of my dogs have been rescues that have brought me a lot of joy and happiness. Between making regular food, blanket and newspaper donations to local dog shelters and currently the happy owner of four rescues, I knew I wanted to work with dogs. They are truly awesome!
Outside of work, I love live music, anything outdoors and hanging with my dogs.
If I could be any breed of dog, I would be a Cane Corso. I truly feel they are gentle giants that are often misunderstood because of their looks and size.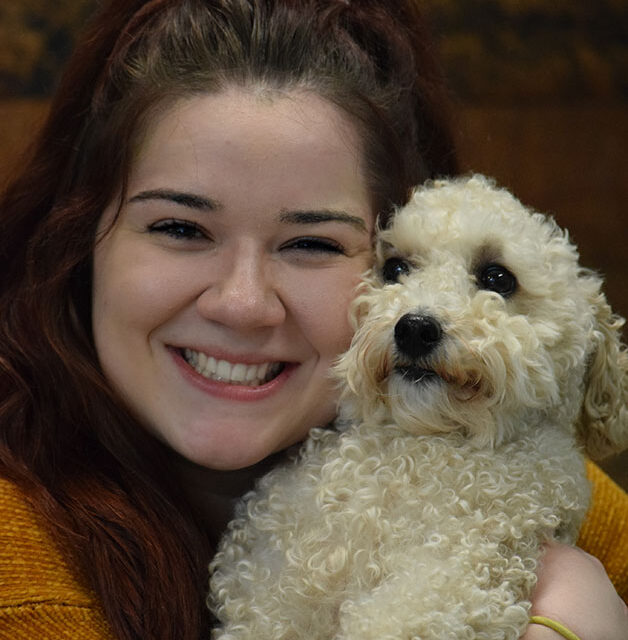 Noble Square PM Operations Lead
I have had dogs my entire life, so I know the comfort they bring us. The best feeling in the world is to come home and be greeted by a dog. They are such big sweet babies that I absolutely adore. When I first learned about Aeslin, I was drawn to Aeslin's goal and message to always put the dog first, so I wanted to be a part of it. 
When I'm not at Aeslin, I'm a college student. With a busy life, I'm either at school or at home doing homework. Outside of that, I love watching movies and reading books that aren't required for school! 
If I could be any dog breed, I would be a Cocker Spaniel. They're incredibly loyal to their pack, affectionate, and love to be around people. They also have long, wavy hair, just like me!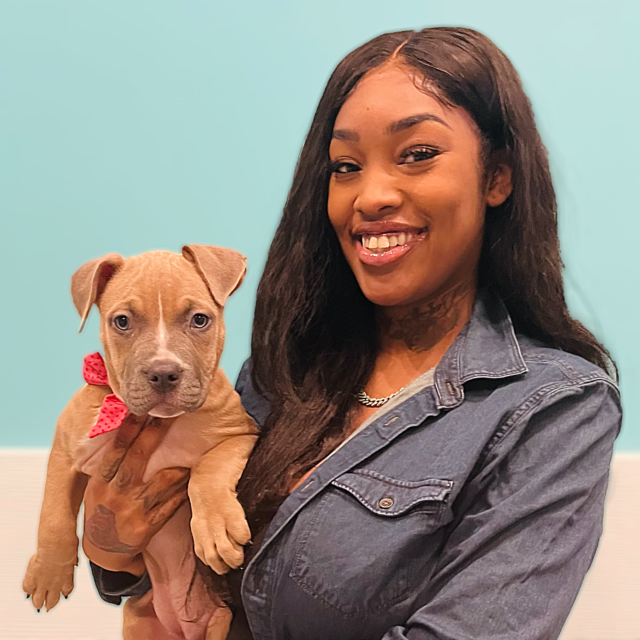 I've always had a strong attachment to dogs ever since I was a baby. I couldn't stay away from them! It's seems like I've always been attracted to learning and teaching them throughout my life and vice versa.
I love to train dogs and learn different behaviors of dogs, so maybe one day I can train dogs to help our community such as service dogs and dogs who work for the police force and military.
If I could be any breed, I would definitely be a Cane Corso! They're very big along with their personalities and can come off intimidating, but are the biggest sweethearts I've ever met.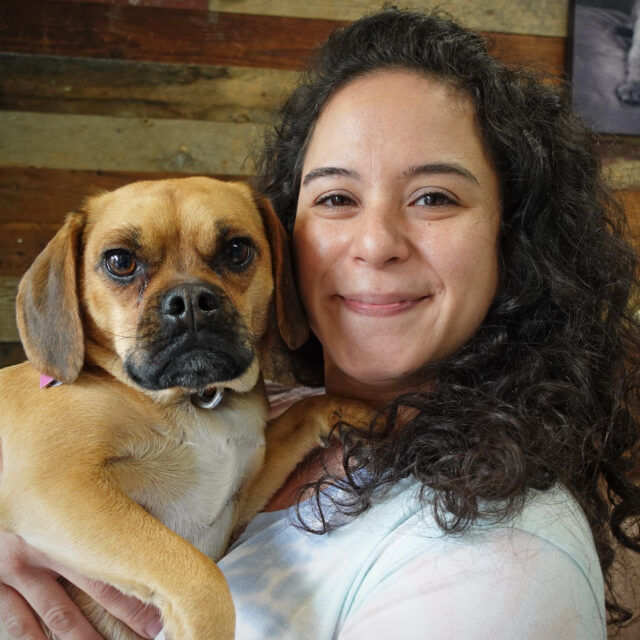 I decided to work with dogs because their good nature is what motivates me to be a better groomer and person. Getting to know each pup and having them trust me is my goal everyday at work. I'm so lucky to work with dogs and people who love dogs just as much as I do. Every day working with dogs is rewarding for me. Even the challenging days are an opportunity to learn.
Outside of work I really love to garden! It's fun and therapeutic for me. I enjoy watching the process from seed to plant and taking photos during the different growth cycles. I enjoy running and try to fit in a jog or a quick run throughout my day. I especially like running on nature trails.
If I could be any dog I would probably be a greyhound. Although they can have spurts of energy and are fast they can also be couch potatoes which I can seriously relate to. Greyhounds are also affectionate, even-tempered, intelligent, athletic and quiet. It's a gentle and kind breed which is what I would want to be as a dog.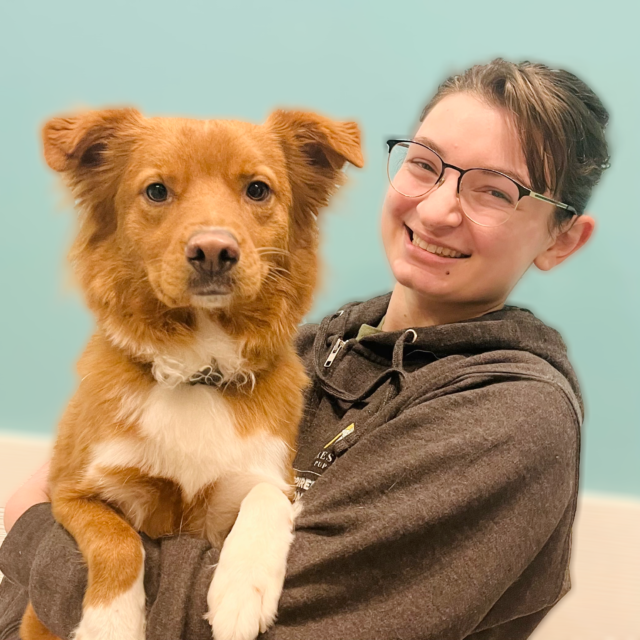 Dogs have an unrelenting joy about them, and for me, that is so refreshing. Even on my off days, the puppies at Aeslin never fail to bring me joy. I wanted to work at Aeslin Pup Hub because of their commitment to keeping dogs and their families happy and healthy!
When I'm not working, I'm studying towards a degree in animation. I also have a huge passion for musical theater, dance, and historical fashion.
If I were to be any dog, I would want to be a Samoyed. Not only are they the fluffiest, but they're also hypoallergenic. They always have a smile on their face and a friendly disposition. I can relate to their friendliness and touch of independence.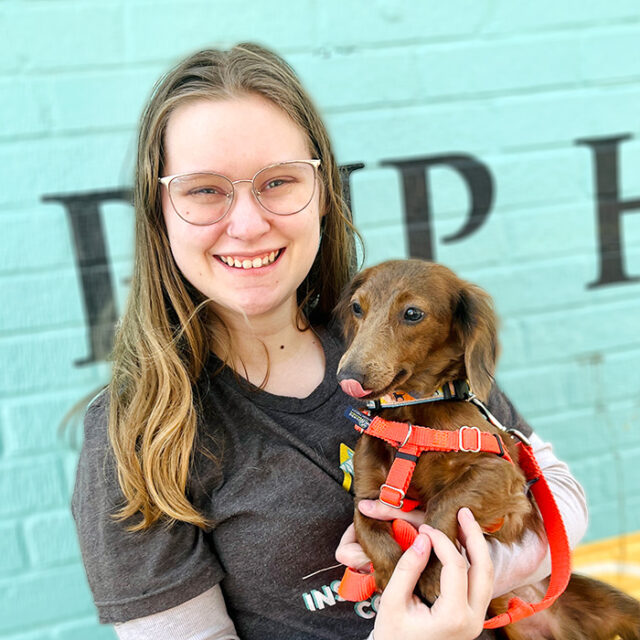 I've always been around dogs since I was little. My family's dogs, my neighbors' dogs, my extended family's dogs, any dog I could find I would love. As I got older, I learned to read the personality and mannerisms of every dog I interacted with. I became the neighborhood dog-sitter because the dogs trusted me and the owners trusted me with their dogs. Dogs are so special to me and working with them every day is such a nice outlet for me, especially with my dog back in my home state.
When I'm not at work, I'm writing, reading, or listening to a podcast or music. I love puzzles and puzzle games like sudoku, crossword puzzles, and matching games. I am also a full-time student at Loyola University from fall through spring.
If I could be a dog, I would probably be an Aussie of some kind. I'm fiercely loyal, energetic, and protective of the people (and animals) I care about. My friends call me the parent friend because I'm always keeping everyone on task and making sure they eat and stay hydrated. All the Aussies and Aussie mixes we have at Aeslin are so sweet, and I love spending time playing with them.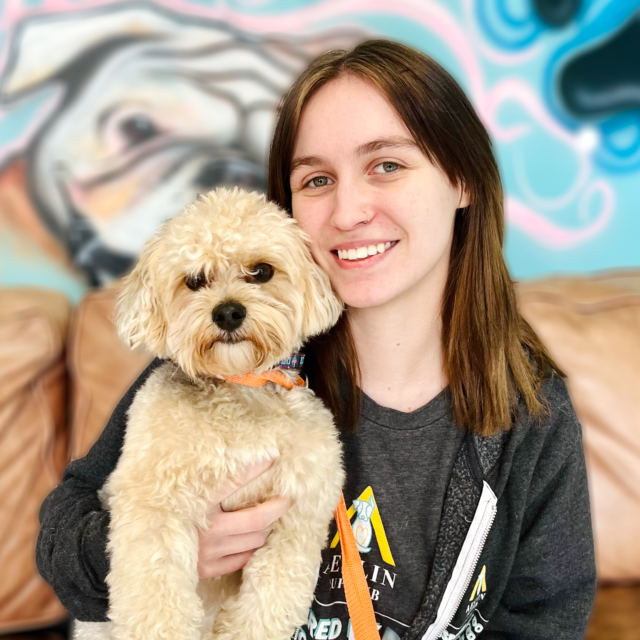 I have wanted to work with dogs for as long as I can remember. Having the ability to work with them is amazing and very fulfilling for me. 
Outside of work, I like to paint, draw, read, and watch movies. I also love going to concerts and shows with all my friends! 
If I were to be any dog breed, I have been told by my friends that I remind them of a Miniature Pinscher. I am not sure why, but now that I think about it, it does make sense.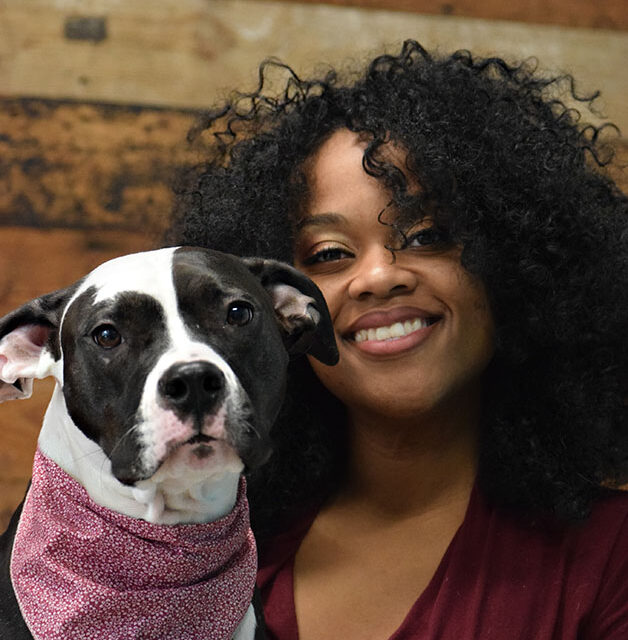 To be able to work with dogs for a living is absolutely amazing. Dogs have such beautiful spirits and connect with us on so many different avenues of life. The fact that they can empathize with us without a voice is miraculous all in itself. To watch them grow and learn is truly a rewarding experience. Most of all, I love that dogs are resilient. Although some are abused, thrown away, or neglected, when the right person comes into their lives they still know what love is. Dogs are simply amazing!
Outside of work, I am an active member of my church committee. Hosting events while bringing people closer to God is a passion that I live for! I also enjoy writing music, painting/sketching, cooking new and exciting recipes, and have recently begun practicing the tenor saxophone. More than anything, I love to travel! To experience different cultures all around the world has been an absolute blessing! 
If I could be any breed in the world, I'd be an American Pit Bull! Pitties are the "underdog" in the dog community. They are judged by appearance and completely misunderstood. With a tough and strong exterior, they are the most caring and lovable dogs that I've ever encountered. Pit Bulls have a natural zest for life and are undeniably the life of the party!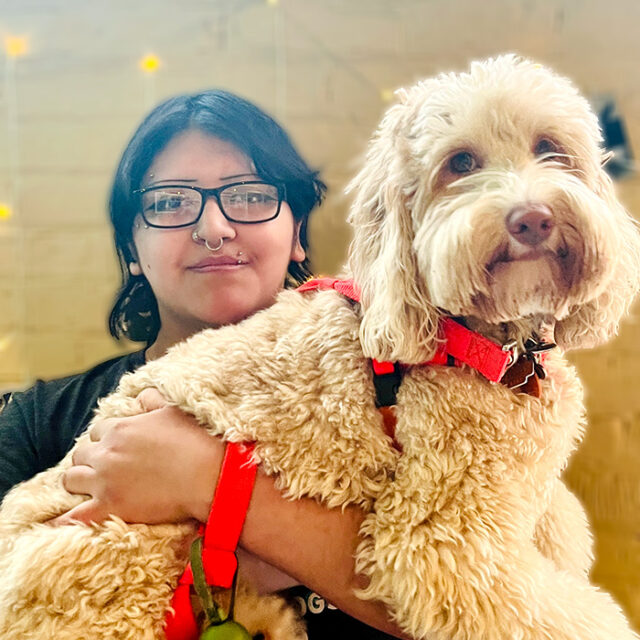 I've always had a passion for animals of any kind since I was a kid whether it was a bird, a rat, big or tiny, I've always loved them my entire life. Growing up I didn't have many friends or emotional comfort but I did have my dog Chirris who passed away. I also grew up around all of the dogs my aunt had and grew very emotionally attached to our German Shepard, Wally, which is why I wanted to start working with dogs and volunteering at shelters or rescuing strays I come across.
The hobbies I have outside of work are all based on my pets! I'm always just taking my dog out to a forest or taking my rabbits out for some fresh grass or sleeping with my cats. Outside of my pets though I am mostly a home person but will occasionally go out with friends. 
If I were any dog breed, I'd probably be a Rottweiler! I've been told by friends that I'm equally as goofy, protective, and stubborn as one and I totally see it. Rottweilers are also just my dream breed to own and working with them makes me love the breed even more.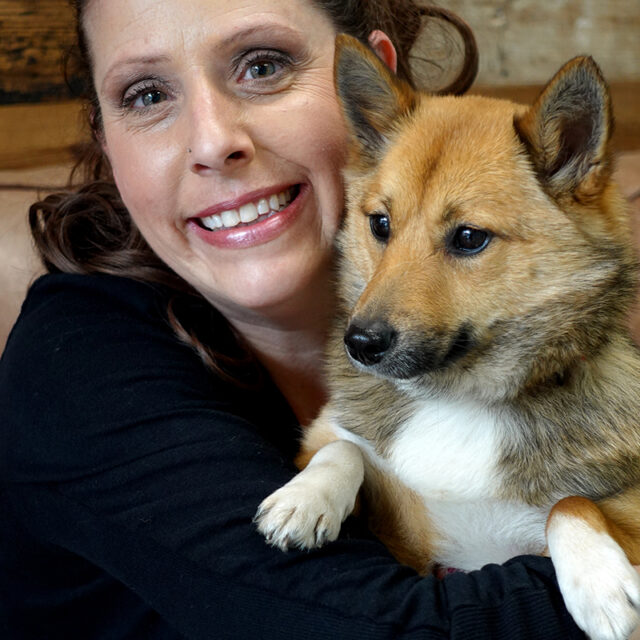 I've always had a love for dogs and owned dogs my entire life. This passion has only grown with time. Working with rescues in the past and owning my first rescue dog has brought happiness to my life.  My first rescued dog had behavioral issues, which made me passionate about learning and helping dogs that require extra training and exposure. Ultimately, I'm eager to make a difference in both the lives of each dog and the owner they love. 
 When I'm not at Aeslin, I love spending time with my dog and putting a smile on his face. I love to take adventures with my dog, whether it's camping or taking a hike in the wilderness. The unconditional love from a dog makes life that much better!
If I could be any breed of dog, I would be a Pit Bull. I believe they are the most misunderstood creatures. When in reality, they're some of the most loving and affectionate dogs that I've ever encountered.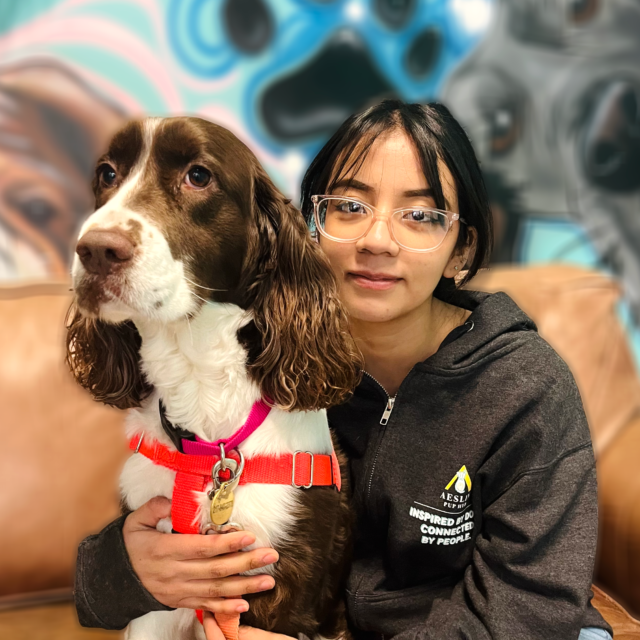 Growing up, I was surrounded by all types of pets, but dogs in particular always stood out. I have a Pitty and Dachshund whom I absolutely adore. When I became a volunteer at a medical center, I realized this is what I loved to do. Getting a dog out of their scared shell and enabling them to love and trust you is what I live for. Although dogs can't speak, their ability to show their love and gratitude towards you in whichever way they can warms my heart and that's why I love to do what I do!
Outside of work, I love to read, drink coffee, take care of my plants, and when the weather's nice I like to go running. Other than that, my great friend and I love to volunteer at an animal shelter where we get to hug and show love to all the dogs and cats that need that second chance and forever home.
If I could be any dog breed, I would be a Dachshund. After having one, I realized that we relate to a lot of things. They are very stubborn and have too much energy for their tiny body. If not careful, these little ones can have severe back problems and we both have wavy black hair that gives us bedhead in the morning! Although we can be too much sometimes, we are extremely loving and affectionate and hate to be away from those we love.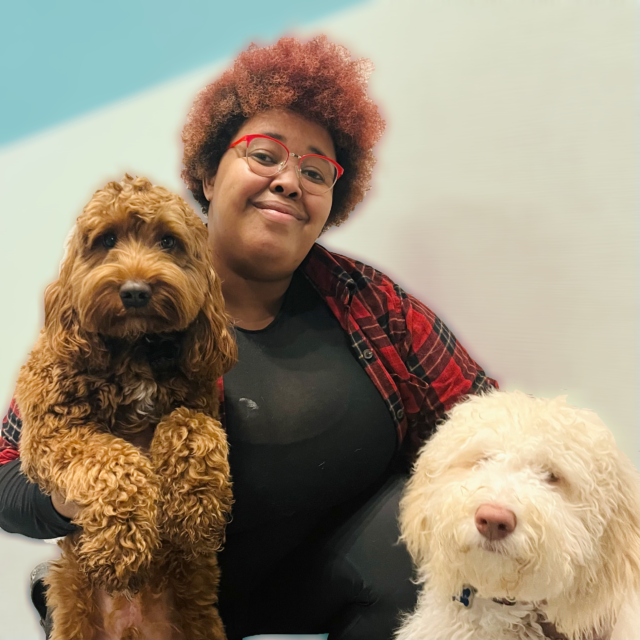 I have always had a love for animals since childhood. For me, this ranges from trying to adopt stray cats and squirrels from the neighborhood to taking my dogs on long walks. As I have gotten older, I have grown more in love with caring for dogs! I have learned so much about dog behavior and the best ways of making sure each pup is the happiest. Most of all, there is a unique joy you get when helping out pet parents and their pooches that you just don't get from other jobs. It's a passion that I've gladly taken on as a career!
When I am not being cuddled by dogs, I mostly spend my time drawing or playing video games. I also enjoy watching twitch streams and anime.
If I could be a dog, I would be a German Shepard. As stubborn as they can be, they are very loyal and protective. I had a German Shepard growing up and she had a huge impact on my life.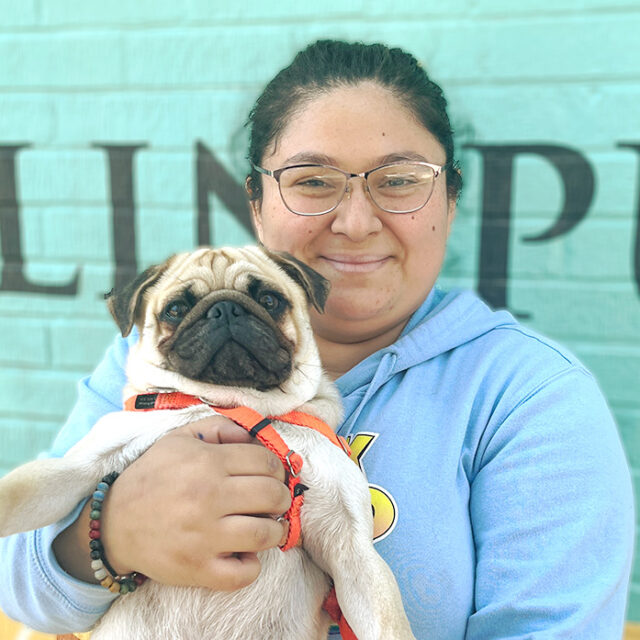 Ever since I was little, I loved animals. I grew up raising dogs with my family. I remember my uncle would bring us a new puppy for us to take care of and find it a forever home. I love dogs because of how incredibly loyal, reliable, amazing, and just full of love they are. I love working with all types of dogs getting to know them and creating new bonds with them.
Outside of work, I love spending time with my daughter, husband, and our two dogs. We go out exploring whenever we can together. I love crafts and being creative. I also like to play my violin and read books when I have time
I would choose to be a German shepherd because of how loyal, goofy, and how protective they are of their family.  I'm a really loyal person and I would do anything to protect the ones I love. I'm also a really goofy person when you get to know me