Prior to opening Aeslin's first pet retail store, 1812 W Chicago Ave, in 2016, my professional background looked similar to so many others: college, entry-level job, some corporate stints, graduate school, and even a startup. How did I end up where I am today? Looking back now, I can say my journey into the pet industry was prompted by the recession of 2008. I asked myself, "What am I really passionate about, and what would I do if money wasn't an issue?" Vividly, I remember thinking if I could spend time with my pups all day, that's what I would do. So I followed my passion and started looking for jobs at pet retail and daycare facilities knowing that someday I would go on to open a pet retail or daycare facility of my own.
In 2011, I was hired at a dog daycare and began learning everything I possibly could about opening and running a pet retail, dog daycare, and overnight boarding facility. During that process, I learned the ins and outs of how the pet industry operates. I learned what was working and what wasn't; most importantly, I learned what changes needed to be made so that dogs could get the best care possible. I asked myself, "Why is the standard so low in this industry? Why is this industry operating at a bare minimum when caring for these dogs?" It made no sense to me that dog daycares and boarding facilities lacked mental engagement, potty breaks, and nap time, which are all essential for dogs. Instead, playgroups were overcrowded, dirty, had minimal staff, high employee turnover, and the list goes on. I didn't know if that was the norm, so I went on a search and visited other dog daycare centers and found out that in fact, that was the standard for pet businesses. From that point forward, I told myself that I would make it my mission to figure out a way to raise the standard of care.
Dogs deserve better! Dog parents deserve better! Communities deserve better!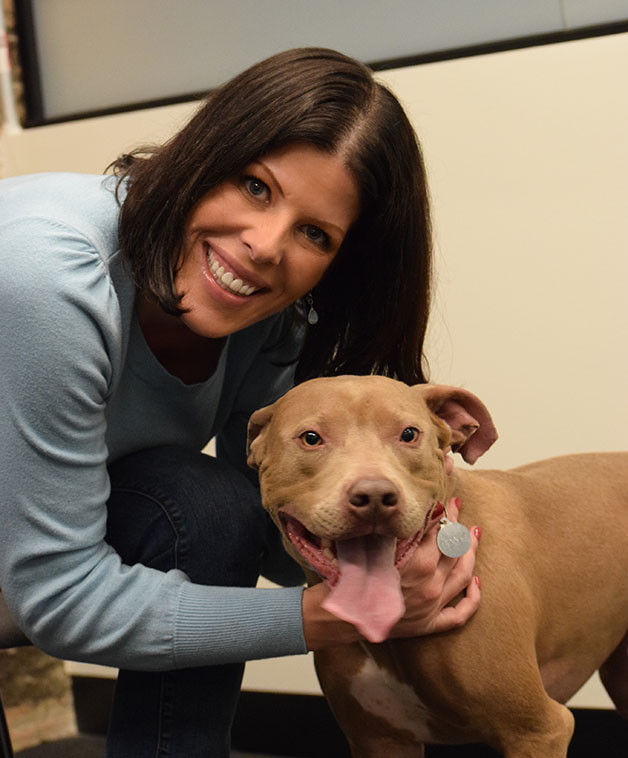 What started as motivation to create a place that would foster the dog and owner-to-dog bond has now become so much more; it's not only puppy kisses and squishy faces that serve as inspiration. It's now all the ways we can serve those who surround our company: dogs, customers, staff, and community. Moved by the idea of impacting our community each day, something that started as a small question to myself has blossomed into a community of helping nourish our staff's dreams, our customer's bond with their pups, and the general well-being of all the pups that frequent Aeslin.
I have always been and continue to be inspired by dogs, and I love the way dogs have the natural ability to connect people to each other. Since my journey began, the two little angels that started with me, Samson & Chance, have since passed on, but their memory and inspiration continues to live in every fiber of my company. The amount of unconditional love and support those two pups added to my life as a young adult truly shaped how Aeslin came about. I feel that their little spirits continue to linger as a reminder of how and why Aeslin began.
Even after 9 years in this industry, I still continue to be inspired by the wonderful amazing four-legged creature we call DOG. I have always been in love with dogs but am now equally in love with running a business that services dogs, the owner's they love, the staff we employ, and the communities we are in. These days, I have two rescue four-legged sidekicks, Hope & Lewis, who are helping me carry the torch of their inspirational predecessors, Samson & Chance. We're on a mission to spread happiness to all the dogs that surround us and all the humans they call home and family. Stay tuned, as a bit of Aeslin joy may be coming to a neighborhood near you!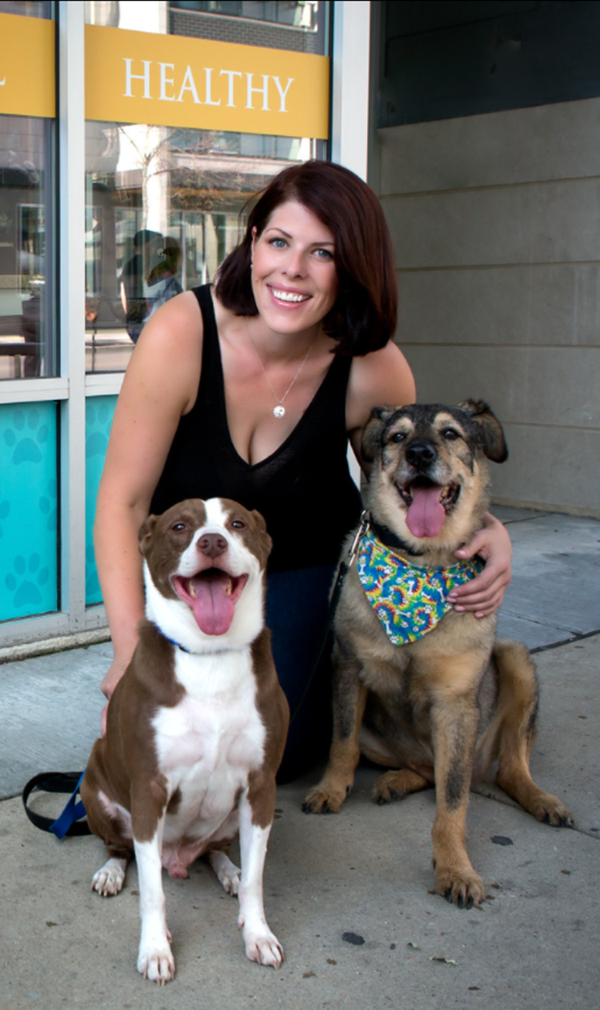 Sometimes, I feel like I have to pinch myself. If someone were to ask me years ago, if I thought I would own pet retail, dog daycare, dog grooming, and dog boarding businesses I would've said, "Really? Well, that sounds like fun!" It's been quite a journey to learn about the pet industry.
In 2015, I began working on a dog daycare project in Pilsen. After spending close to a year on a project that I put so much work into and continuing to meet roadblock after roadblock, I came to terms with the fact that it was going to take much longer than originally anticipated for my Pilsen dream to manifest. I continue to navigate the complexities of obtaining zoning and construction approvals. In the meantime, I knew I had to continue to pursue my dream. I saw a need and opportunity to open a pet retail store and this is how the birth of our Ukrainian Village location came about. Then, a year later, I opened a dog daycare and grooming spot. Then again, ten months after that, I opened a dog daycare and boarding facility. I look back now and still can't believe I'm self-funded. No investors. No friends or family loans. Some would call what I did "bootstrapping." To me, I like to think of it as being purpose and mission-driven. I knew what I wanted to do, and I would do whatever it took to make it happen.
What started as one small store now has grown to several. Much of our growth is definitely attributable to hiring amazing people who share the same core values about pets and pet owners. Staff who believe in our philosophy of, "We aren't entitled to anyone's business. We must earn it every single time someone walks through our doors." Our growth is also due to the loyal and supportive customer base we have built over the last few years. Customers who believe in what we are doing, who share that same love of dogs and owner-to-dog bond. When I say sometimes I have to pinch myself, it's those who surround me, the ones who believe in Aeslin, that make me feel like I'm living a dream.